I attended the EVP meet-up in Stockholm last week. We were around 50 visual practitioners – graphic recorders, graphic facilitators, sketchnoters, doodlers, scribes or visual harversters – that gathered in the heart of Stockholm to share ideas and experiences, try out skills and tools and to discuss burning topics of our field.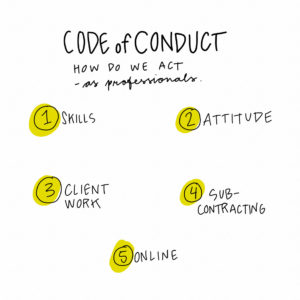 What is EVP, European Visual Practitioners?
EVP is a subgroup of IFVP, International Forum of Visual Practitioners. They're both organizations that offer education, marketing and networking for us visual doers. All in all the EVP network has around 1000 people from all around Europe. This is a growing field. That in mind, we worked on the Code of Conduct for visual practitioners: what's cool and what's not? How to act as a professional and how to make sure you won't harm our field of practice? In which ways do you operate with both your colleagues and your clients?
Digitally yours, as always
I signed up for the Stockholm meet-up because I thought it would be nice to meet with European  colleagues since I didn't go to the previous IFVP conference in New Jersey. I'm always especially interested in sharing ideas and tool tips for digital graphic recording and this time we were also able to discuss the digital matters. In one of the open space sessions we created a list of features that we would like to have in a drawing app. So the first drawing app provider that offers our list of demands gets my vote!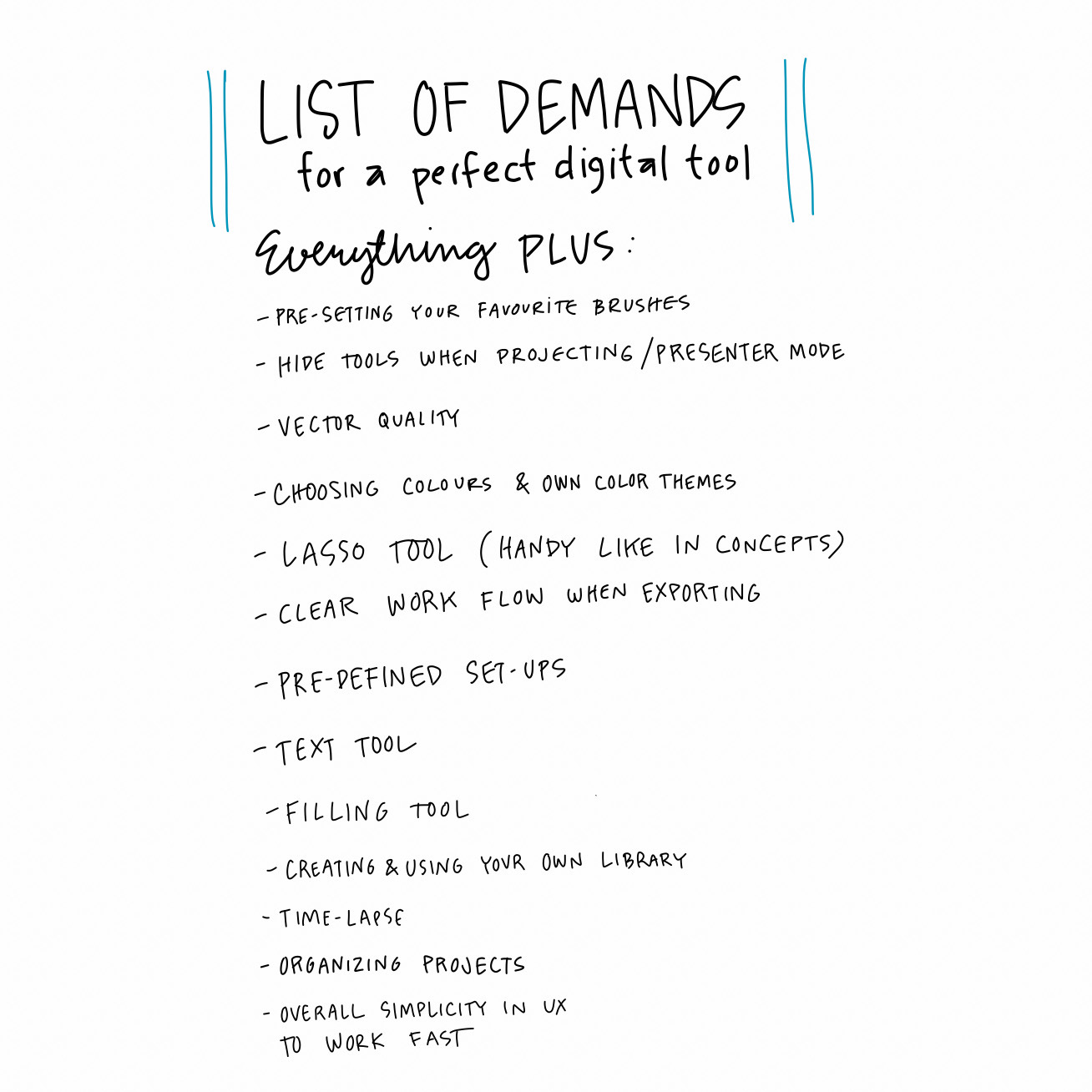 So far I've been using Adobe apps (since 2010!), right now Adobe Illustrator Draw, but since Adobe announced they quit developing that tool I need to migrate to other tools. Adobe Fresco is still lacking the basic functions that I find very useful for a digital graphic recorder so I haven't made the change into that app yet. Other possibilities I'm considering are Procreate and Concepts apps. I thought I'd send our "list of demands" to Adobe via their feedback channel and hope for the best. But hope won't carry me far if I want to keep on working on a professional level. There I need proper tools.
Go, community, go!
What we digital visual practitioners could do as a community is to go and tell our opinion about the new Adobe Fresco tool: via the Fresco app you can access the new and upcoming features section. There you can throw in your own ideas for Fresco features or vote for the ideas others have left on the forum. Because they're still developing the tool, I think this could be a good time to make suggestions for features.
Visual tools in schools
During the meet-up I also attended a "Bikablo macht Schule" workshop where we discussed about using graphic recording and sketchnoting in schools. Using visual tools in schools is an interesting theme and I think we'll see a lot of teachers experimenting with visual ways of working in schools in the future.
I'd like to thank the organizing Swedish team for the meet-up: brilliant location, good food, lösgodis, fika and the programme you put together supported our meet-up. Tack! The next EVP meet-up is in Vienna, by the way, in early May 2020, if you're interested in going.