Nordic Business Forum, the highlight of the sketchnoting season is soon here. How am I preparing for the event and what do I feel and think when there are only days left for the big moment? Over 7500 executive leaders and business owners will gather in Helsinki to listen to an impressive crowd of keynote speakers such as Randi Zuckerberg, Daniel Pink and George Clooney. And somewhere there among the audience is a digital sketchnoter with her iPad. That's me.
Greetings from my home office! It's only a couple of days until Nordic Business Forum starts and at this point I'm reading the agenda, checking out the speaker's writings on social media – and I might even try to find some podcasts from the speakers in order to tune in. At this point I'll also start on working on the individual visualizations: I'll create the titles, speakers' names and so on beforehand so that I don't have to work on those  when the heat is on.
Hans-Peter likes sketchnotes
I had a chat with Hans-Peter Siefen, one of the event organizers, and we talked about the benefits of graphic recording for such an event. He said that he likes offering people a way to learn in a different way and that sketchnoting offers a chance to check out the content of the presentations in a simple and fast way. He also said that many people in the audience await the sketchnotes; they're in a way part of the event spirit. We remembered back the year 2011 when they brought Al Gore to our home town Jyväskylä and I did my first skechnotes for the event. I asked if they had seen anything like that before but they hadn't. It makes me grin to think that they had the courage to bring a sketchnoter into the seminar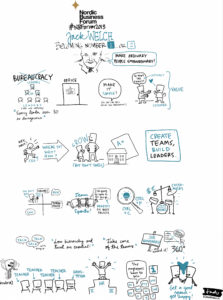 hall and make use of the sketchnotes back then when it wasn't that common in Finland. Nowadays sketchnoting has become a more well-known way of handling information here, too, and I think that Nordic Business Forum has had a big role in this.
I also asked if Hape had a favourite sketchnote and he mentioned the one that I did back in 2013 when Jack Welch was at Nordic Business Forum. We both remembered how Jack Welch made a humorous, witty remark about the sketchnote. Now when I look at the sketchnote I can only hope that my doodling style has developed some way from those days…
How about 'em speakers?
Before, I've drawn visualizations based on presentations or speeches by Daniel Pink, Alex Osterwalder and Steve Wozniak. This year I'm especially waiting for Randi Zuckerberg's presentation and Donald Miller's point of views on storytelling. I'm guessing that Daniel Pink will throw a great presentation, too. And yes: I'm also waiting anxiously for getting some George Clooney stardust straight from Hollywood. With the help of that my worn-out self will also be soooo glamorous, right?
I know that Osterwalder's presentations will be challenging to capture. I have namely drawn his presentations a couple of times in the past few years and he always a lot to speak about – and he speaks fast. So what I need is some filtering so that I'm able to hang in. My brain will melt surely with the other speakers, too, but after all these years I'm able to count on my skillset. So I guess I'll manage – just like that!
This year my iPad won't be hooked into the livestream. Instead, I get to work freely without worrying about the technology. During some of the presentations I'll sit among the audience with my iPad but mostly I'll be working in a separate space behind the scenes. There I'll get to move out, stretch my legs and back more freely, have a table and a proper chair and some space for my swollen brain as well.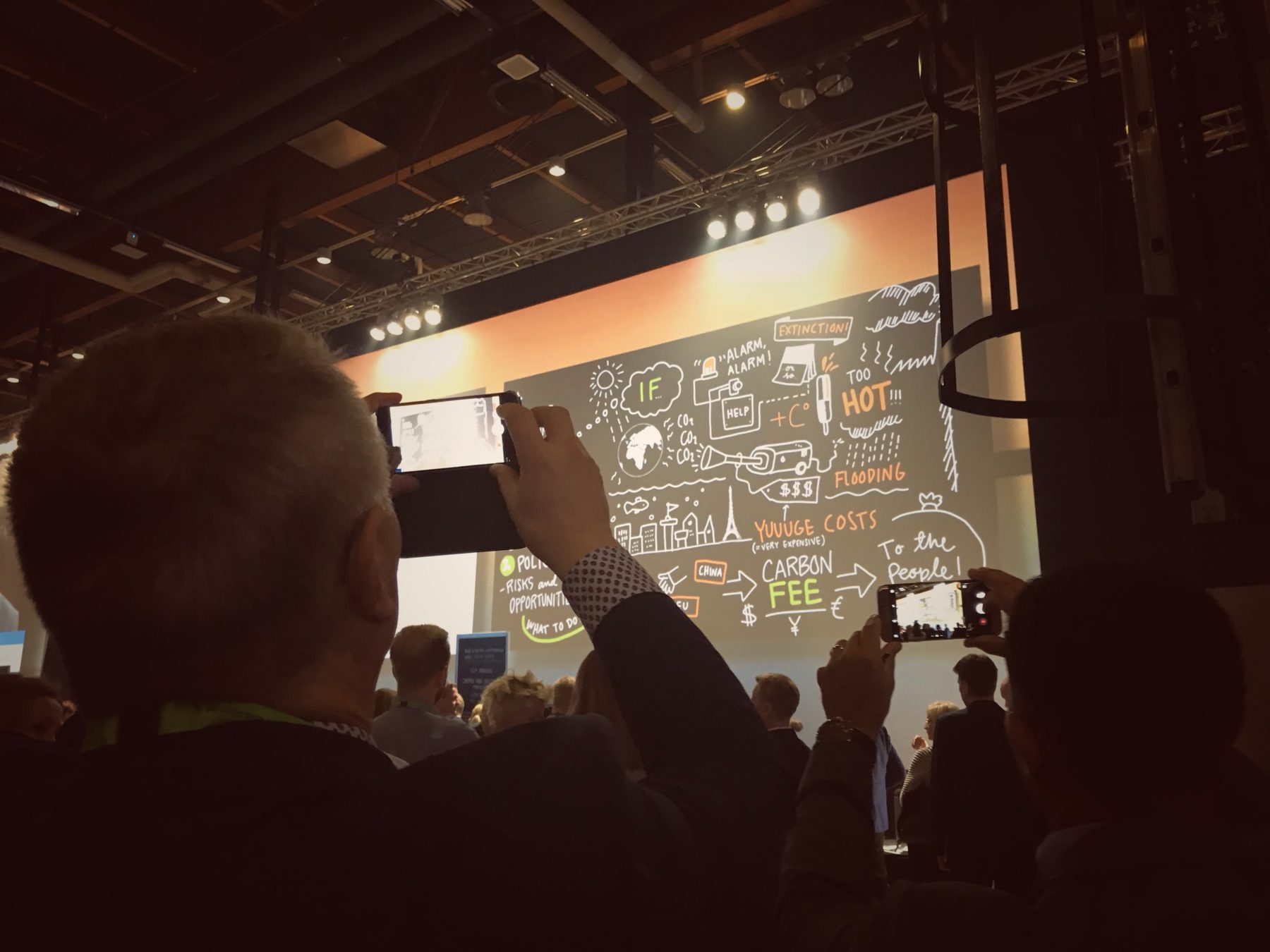 Sketchnoter on a meta level
If you see me among the audiece, do come and say hi. At some point of the day I'll be hovering somewhere near the whitescreen that shows my doodlings. I like observing people that watch the pictures that I created. Sounds meta? It is. Usually I also visit the Jyväskylä city stand because I tend to find familiar faces there.
So see you in Nordic Business Forum 2019!
BR,
Linda the iPad Sketchnoter
P.S. While you're waiting for the event go and see my sketchnotes from last year in the Nordic Business Forum blog.