One, two, three… This is the 8th time when I'm doing graphic recording at Nordic Business Forum. NBF is a fairly supersized conference for business beasts and others. The event is filled with world-class keynote speakers and their presentations.
I read a blog post written by the good people at the NBF headquarters. In the post they listed out a couple of suggestions one might want to do before the event:
Define your goals
Make a plan
Start booking meetings with Brella
Download the event app
Do your homework and pack your bags!
What do these suggestions mean from the graphic recorder's point of view?
Goals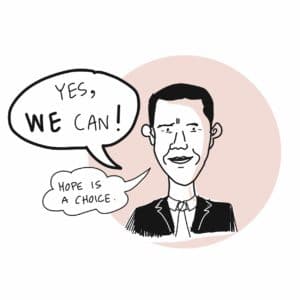 My goal is to be able to keep up with the speakers with my Ipad and my Apple pen. It would be really nice if I was able to create visual notes with great cohesion and all the main ideas captured. It would be even nicer if I was able to use some of the new techniques (yes, I practice and I try to develop my work) in some of the illustrations. And of course the main goal is to serve the attendees and my clients so that the images that I create bring them benefit and clarity. That's for dang sure!
Oh and it would be great to get at least one glimpse of Obama. (Yes, he'll be there this year.)
Plans
Well, I'll be working. So I won't have time to make any plans such as "during the first coffee break I'll squeeze myself into the line so that I get to be right behind that Very Important Person". Nope. Instead, I'm going to be part of the NBF experience, a puzzle piece right in the middle of the blue sky in the NBF puzzle. You know, the one that you'd miss even though you could see the overall image. It would be so disturbing if that one piece was missing!

Brel-la-laa
I remember a year when I had signed into the Brella app and made myself available for business meetings during the event. I forgot all about it and left my calendar unintentionally open. It happened that someone actually booked a meeting and I had to go and mingle even though I really would not have had the time. Well, we made a business deal then. So if I had the chance to clone myself I might book some Brella meetings. But not. Let the people contact me through other channels, I'll be sitting by my fax machine after the event.
The app
I'm going to download the NBF app. With the help of that I can double-check the spelling of the names so I won't make mistakes like that other year. Another channel worth mentioning is of course the NBF blog on their website. I'll post all of the visual notes there right after I'm ready with them so stay tuned.
Homework and bag
I'm going to try to check out what the speakers have been talking about recently. The internet with all of its videos and podcasts will help me with that. I'll pack up a couple of iPads and a gazillion adapters. And an Apple pencil and a spare pencil. Extra battery or two. Three power adapters. Wipes to clean my glasses. My brain and a pair of woolly socks. Chocolate for quick boost and some Finnish sisu. Or something like that.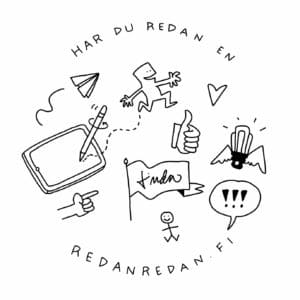 If you see me at the Helsinki Exhibition and Convention Centre 26th-27thSeptember, come say hi and ask for a yoyo. Yes. I carry those with me. See you!
Linda Saukko-Rauta, graphic recorder & entrepreneur,
"The Sketchnoter"