Does your teenager want an iPad to draw, doodle or to create animations with? Or do you want an iPad to develop your skills in digital illustration? But which iPad model would be the best? People ask me quite often which iPad to buy, so I decided to throw in a post about… well, buying an iPad. So off you go, a couple of tips when it comes to iPads.
Why an iPad?
I bought my first iPad in 2010 when the 1st generation iPads hit the market. Until then, I had drawn my cartoons with ink and blades, then scanned them and used a basic Wacom Bamboo drawing board for coloring. With Wacom, I couldn't draw because eye-hand coordination was terribly lost: I looked to the left as the hand drew to the right. Oh crap. But when I got the iPad in my arms, the world brightened. Drawing on the iPad was a great success, as the eye saw what the hand was doing. Some have also praised Microsoft's Surface systems, but I personally liked the iPad, and it was a gateway to other Mac products. Digital illustration is fast, efficient and versatile – the measuring container in everything you do is a hectolitre of creativity.
Apple Pencil
If you're looking for an iPad with a drawing in mind, choose a model that supports the Apple Pencil. There are other stylus pens that can be used with touchscreen devices, of course, but I haven't used other pens after I started using the Apple Pencil: it's accurate and compatible with the iPad.
There are two Apple Pencil models: older and newer. Certain (often older) iPad models do not support the new pen, so be careful that you buy a pen model that your iPad supports. The older Apple Pencil is identified by a detachable head as it is charged either by placing the pen on the end of the charging cable with a small adapter or by sticking the pen directly into the charging port on the iPad. Then the pen sticks out on the side of the iPad and charges. The newer model is magnetic, so it attaches to the side of the iPad and charges (and is carried around) nicely on it. The old pen is a little longer, narrower and heavier than the new one.
I like the newer pen myself – or I'm used to it – but the old one pen model is a very good stylus, and one copes with it very well.
The drawing heads, or pen tips, are actually similar in both: the hard tip comes off and can be replaced. The pen came with one replacement head. The tip is durable: even though I have used my own pen a lot, I haven't had to change the tip of the pen at all during the couple of years that I've had it.
iPad Pro or some other model, which?
If you want a newer Apple Pencil (the one that is lighter and shorter), there are two options: the iPad Pro or the latest fourth-generation iPad Air. The Pro is, as the name implies, a pro model, meaning technical features and screen quality are of high quality. And the price is high, too. The iPad Air is a nicely lightweight model and supports a new stylus. Note that the 3rd gen Air supports the old pen and older Air gadgets do not support an Apple pen at all. (It's an airy mess, I know.)
Apple also offers a cheaper standard iPad model, the so-called "school model" that supports the older Apple Pencil. The newest mini iPads also support the pencil. These are also really good options, the mini being a bit slower than the bigger variants.
Once you have chosen your model, you still have to think about how much storage space, i.e. GB, you need and what kind of a connection would be good for your purposes: does wi-Fi alone work, or would it be convenient to have data connection capability for mobile work? Personally, I once got some old iPad's storage full of apps, pictures, and videos, so I wouldn't take the very lowest storage option. But on the other hand, I didn't choose the largest model when I last upgraded my equipment.
My own choice is the iPad Pro (11 inches, 2nd generation), 512 GT, Wi-Fi + Cellular. I've tried the larger 12.9-inch iPad, but I like the smaller screen, and it suits my work better when I have to sit in seminar halls with an iPad on my lap.
When choosing a model, a comparison option on apple.com helps you to see quite clearly which pen each model supports. Off you go. The Macrumors site, on the other hand, hints at when new models are coming.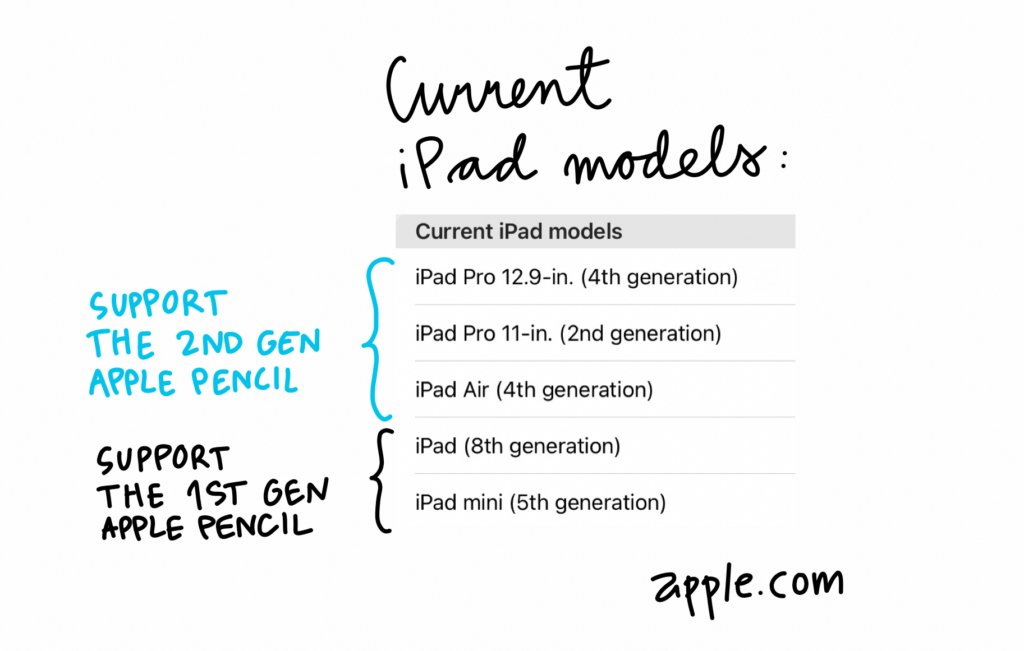 Used or new?
The options I just presented are all brand new iPads in the current collection. But there are also used iPads for sale, and that can be an ok option if you know what to buy. So which model has the pen support and how much storage does the gadget have – and if there is the cellular capability? New types of business models have also brought used and fixed iPads to online stores.
Drawing apps and tips
There are many drawing applications. Check out the user interface, the ability to save in the cloud and the choice between raster or vector quality when you choose your app. And of course, the cost of the application is good to check. I use Adobe apps myself, so I pay a monthly fee to take advantage of the Adobe Creative Cloud. Adobe Draw and Adobe Fresco are options for drawing, illustrating, sketching, and painting, but Adobe has many other apps that inspire creativity. The Procreate app is popular among illustrators, but you might also want to check out Concepts or Affinity Designer.
Learning to use a drawing application goes fast and is intuitive at its best, but with complex applications it takes a moment before you get the hang of it. You need some sisu with all this! It takes half a year before the muscle learns.
The screen of the iPad may feel slippery at first, and drawing is difficult when the pen slides on a slippery screen and screeches against it annoyingly. There is a solution to the problem: you can buy a paper-like protective shield that brings friction to the pen strokes. Check out Paperlike or Illumishield Matte. There are also small silicone hoods which can be put on top to bring friction. I tested those, but I didn't like them.
So in summary:
not all iPads support the Apple Pencil
all the latest iPads in the current collection from iPad Pro to iPad mini support a pen, either a new or an old one
buy an iPad that supports the Apple Pencil
buy an iPad that supports the latest Apple Pencil, but if it's too much for the budget, the old model is just fine
when it comes to drawing applications at least Procreate and Concepts, Adobe Draw, Adobe Fresco, Paper and Sketches Pro are worth testing
the mightier the iPad, the better, but a cheaper model will do just fine for basic drawing
when you have bought the iPad, draw every day
Written by
Linda Saukko-Rauta
The iPad Sketchnoter and Graphic Recorder
iPad user since 2010