Finnish version of the post here. 
I became an iPad user in 2010. Apple launched then the 1st generation iPad and I bought it right away when they shipped to Finland. Ipad was the miracle machine that made me into an illustrator.
Before buying the iPad I had used an ink pen to create my comic strips and then scanned my drawings. I had also bought a Wacom Intuos drawing tablet to test it out but I didn't use it anything else besides occasional coloring work. The missing hand-eye coordination made it too difficult for me to master.
The Great Stylys Comparison: shitty, lousy, no-good
At first I used my finger to draw with the iPad but at some point they started selling stylus pens. And boy
did I try out various pens! I had trouble with the ones with the hard tip because the tip needed to be in a certain position and angle to work smoothly. Pens with soft nibs were not precise. The ones that I ordered directly from China were totally lousy. Some of the pens were too heavy, others too light-weighted. After testing I ended up using Wacom Bamboo stylus pens with a changeable nib. I used those pens for a couple of years. A good thing was that I could order in both softer and harder nibs and the harder ones lasted for a couple of months of hard use.
Pro came. I was ready.
And then in 2015 Apple launched the iPad Pro and Apple Pencil. By launching a stylus pen Apple in a way ignored Steve Jobs' legacy because he was known to have been very negative towards stylus pens: "Who needs a stylus?" he said at some point.
I didn't buy the very first iPad Pro because I thought the 12,9 inch monster would be too big for my purpose: I often sit in seminar halls and hold the iPad in my hand so it's important that the gadget isn't too big or heavy. So I waited for the smaller model and bought myself a 9,7 inch iPad Pro with Apple Pencil in spring 2016. After that I didn't touch the Wacom stylus pens.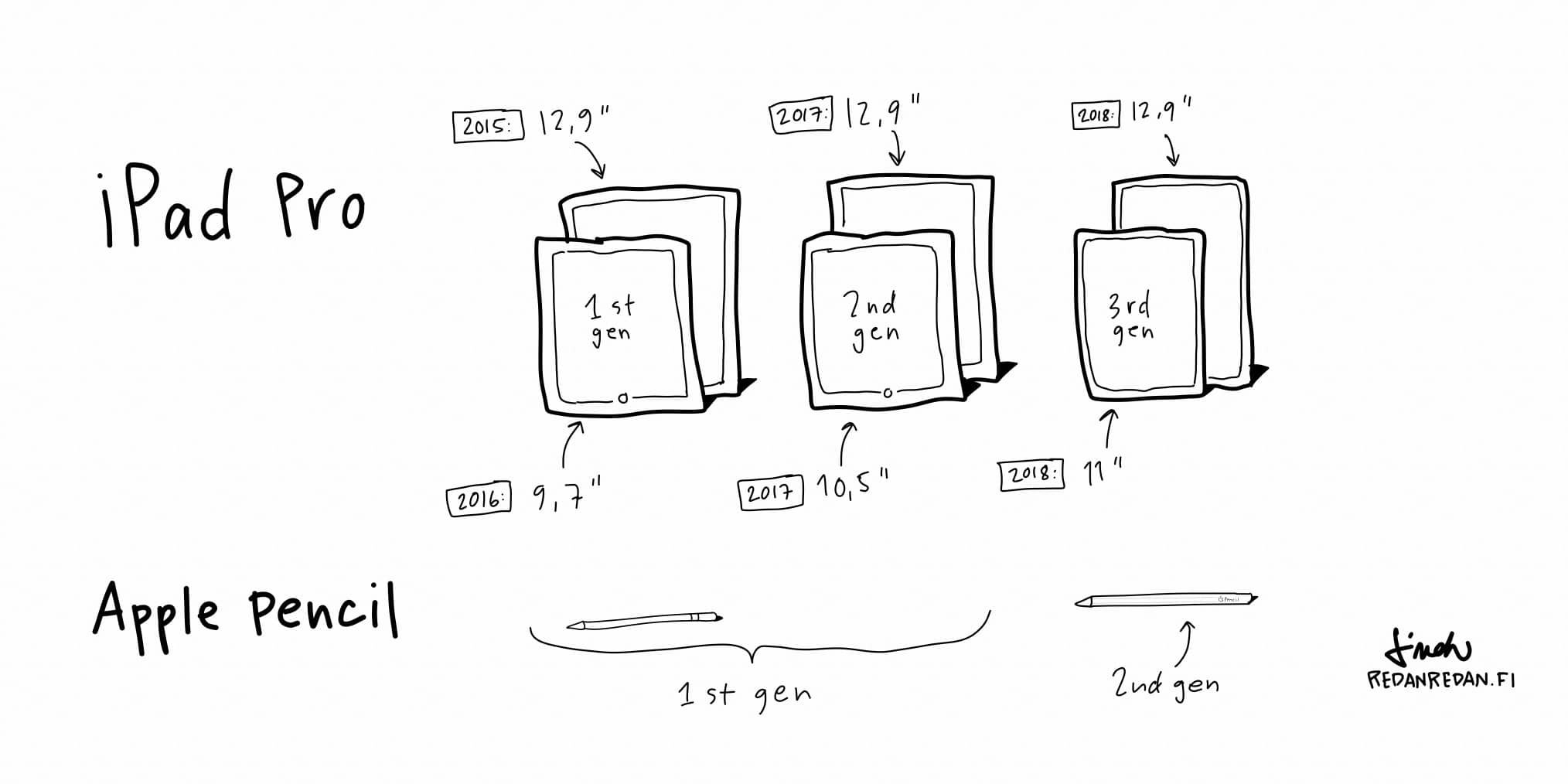 Anatomy of the pencil
Apple Pencil changed the way I draw. Big time and in a good way. Now my drawing line was precise enough and the tip was very durable. You could hold the pen like… well, a pencil. I didn't need to worry about angles or any other technical hick-ups. The pencil itself is a "dumb" pen so there's no high-tech features apart from Bluetooth. It's not too heavy and when I bought a leather sleeve with a space for the pen, I didn't need to worry about losing the pen or the cap. At first I was irritated by the clicking sound the pen made when it touched the iPad screen. Click-click-clickety-click. But I solved the problem with a matte screen shield plastic.
Since then I have had some troubles with the battery (I updated into a 10,5 inch iPad along the way) but that doesn't amaze me: I'm a heavy user of my iPads and I push them to the edge. At times I've felt that the 10,5 inch iPad is also somewhat heavy to be used whole day without a desk.
The newnew iPad and new pencil
In 30th Oct 2018 Apple had another launch event. Now they presented a totally new 3rd generation iPad and a new, 2nd gen Apple pencil. The new pencil works only with the new iPad so it's no use to try pairing it with older Pro devices.
I ordered a new gadget right away and got it in few days. It's supposed to be the thinnest iPad Pro of all times and the screen reaches from edge to edge giving us an 11 inch screen with full of power, colour and feel. How does it feel to work with the new iPad? That's probably worth an article of its own.